Guest // Suzanne Somers
Host // Kelly Brogan, MD
Yes, we want to be healthy. Once we stop nodding at the basic platitudes — sound sleep, regular exercise, smart nutrition —  however, we're left wrestling with the brutal realities of living in the real world:
It's hard to be healthy. I'm not smart enough to reconcile so much conflicting information. Do whole grains promote health or cause inflammation?
I'm too busy to be healthy. Who has time for this? I run out of day before the end of my job and family obligations.
It's stressful to be healthy. When I have free time, I want to chill out. I do not want to research about health.
It's bad for my social and family life to be healthy. People think I'm weird or they feel implicitly criticized by my actions. My family wants to fire me.
It's not enough to be healthy. I want to look good. What happens when the thing that's healthy conflicts with the thing that makes me look and feel my best?
We page through women's magazines and wonder about the airbrushed images that stare back. These women are flawless but looking like that can't be healthy. Gel manicures, make up, and highlights? Laxatives? Is there an oasis of sanity in Hollywood… a health maven and wellness guru who really knows her sh*t? Because we have questions:
What does she wish she knew when she was in her 20s and 30s?
What are the little "health nudges" that we should never ignore?
What are the ten things she does every single day?
And seriously… what is she really eating and how on earth does she get her hair and teeth to look so perfect?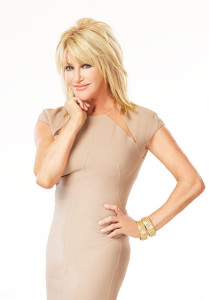 We want to talk turkey with someone who conquered the Hollywood game, confronted a terrifying health scare, and emerged a real life superstar. Join us for an hour with Suzanne Somers, a fearless advocate for reclaiming health, naturally.
Suzanne Somers is an actress, bestselling author, and businesswoman. Her latest book, Tox-Sick, was released earlier this year. She defied conventional medicine, beat cancer, and became a health activist who's helping to redefine what it means to be robustly, vibrantly resiliently healthy.
Share
|
Download(

Loading

)