Listening to this show (and then buying Brian's funny and wise book) is the perfect way to be introduced to the basics. It's Holistic Parenting 101… enlightening for brand new parents, affirming for parents in the thick of it, and entertaining for everyone.
Brian is mellow, zen, and super insightful. He had me before page 1. In the Preface, Brian describes responding to his wailing 2 year-old, Benji, by sequentially implementing specific pointers from the vast library of parenting books he had just read. Benji stopped crying but Brian had no idea why.
You have to love anyone who reads 19 parenting books to figure out how to talk with a toddler. He's not afraid to make fun of himself. And as any parent knows, there's an awful lot of material to work with, when we're willing to lighten up a bit.
We'll be talking about circumcision, home birth, vaccines, and some of his favorite parenting philosophers, including Alfie Kohn and Lenore Skenazy. We also talk about the role of fear in parenting and how it feels when some of your choices go against the herd.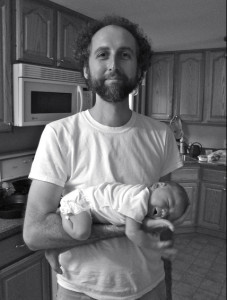 Brian Leaf is an author of numerous books, including Misadventures of a Garden State Yogi: My Humble Quest to Heal My Colitis, Calm My ADD, and Find the Key to Happiness, and Misadventures of a Parenting Yogi: Cloth Diapers, Cosleeping, and My (Sometimes Success) Quest for Conscious Parenting. He is a math tutor and owns the New Leaf Learning Center in Northampton, MA. Brian has studied, practiced, and taught yoga, meditation, and Ayurveda for 25 years.
Louise Kuo Habakus is Executive Director of Fearless Parent, lead host and producer of Fearless Parent Radio, and mom of two. She is a published author, runs the non-profit Center for Personal Rights, lectures widely, and has appeared in numerous media outlets, including ABC World News Tonight, Fox & Friends, and The New York Times. Louise was a Bain consultant and a C-level executive in the financial services industry. She holds two degrees from Stanford University. She is an advisory board member of GreenMedInfo.
Share
|
Download(

Loading

)